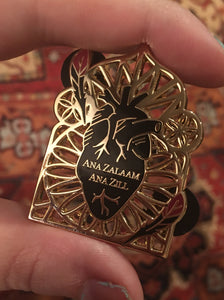 This gold plated hard enamel pin measures 1.7 inches and is inspired by Hafsah Faizal's We Hunt the Flame.
"Ana Zalaam. Ana Zill." means "I am Darkness. I am Shadow." 
As all pins are hand painted, no pin is perfect. Standard Grades are as near perfect as you can get.
B and C Grade pins are imperfect pins with more visible, minimal flaws.