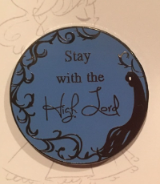 This listing is for an Officially Licensed Suriel Night Court pin.

This 1.5 inch pin is hard enamel, black nickel.
The art depicted on the products listed for sale is wholly original to me. Sarah J. Maas has not collaborated with me in any way in the creation of the art, and the traits of any characters depicted in the art is in no way based on any foreknowledge by me of the traits of any characters in future books by Sarah J. Maas.
As all pins are hand painted, no pin is perfect. Standard Grades are as near perfect as you can get.
B and C Grade pins are imperfect pins with more visible, minimal flaws. 

Thanks for looking!
From A Court of Mist and Fury, by Sarah J. Maas, © 2016. Artwork by Angela De Vito.  Created with permission of Writers House LLC acting as agent for the author.