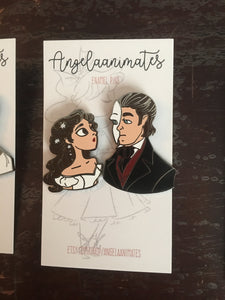 You have passed the point of no return...dun dun dun. This listing is for a Phantom and Christine enamel pin set! Both pins are hard enamel with a black nickel finish. Christine measures 1.2 inches. Phantom measures 1.5 inches.
As all pins are hand painted, no pin is perfect. Standard Grades are as near perfect as you can get.
B and C Grade pins are imperfect pins with more visible, minimal flaws. These are in stock and will ship as normal.
Thanks for looking!